---
Our links:
HOME
Contact me
ChrisRetlich.com
---
ChrisWare downloads:
JuiceBox Image Converter
Stock game
Spanish helper
All others
Welcome to ChrisWare!
Program ID: 491200000103, version: 1.00 Demo
View Stock Game image

Stock Game!
This game involves buying and selling shares of virtual stocks. Buy when the values are low, sell when they become higher. Make a huge fortune and win the game.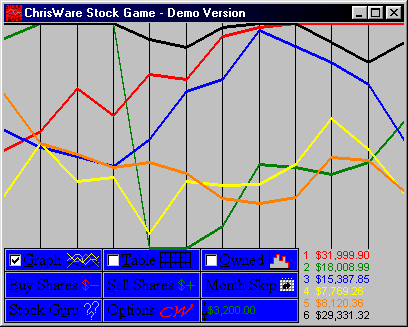 Download: Sorry, this program is not yet available

Stock Game Demo
---
Maintained and copyright 2003-2019 by Chris Retlich, all rights reserved. Last updated on 08/28/19.